ABOUT BEACON MARINE CONSTRUCTION
Beacon Marine Construction is a leader in residential and commercial waterfront improvement throughout Cape Cod and Southeastern Massachusetts. Since the acquisition of Gillmore Marine in 2015, we have continued to build a reputation for excellence based on the superior quality of our work, exceptional service, and reliability. From major new construction projects to small repairs and maintenance, we handle every job with the same dedication and attention to detail.
Our commitment to quality begins with our team. Their experience, skills, and motivation are the heart of our company, and they never give less than their best. In addition, by continuously reinvesting in new and improved equipment, we have created construction efficiencies that allow us to complete projects more quickly, while enforcing the highest quality and safety standards.
If you have a pending project at your commercial or residential property, please contact us at 508-477-7880 to discover what Beacon Marine Construction can do for you!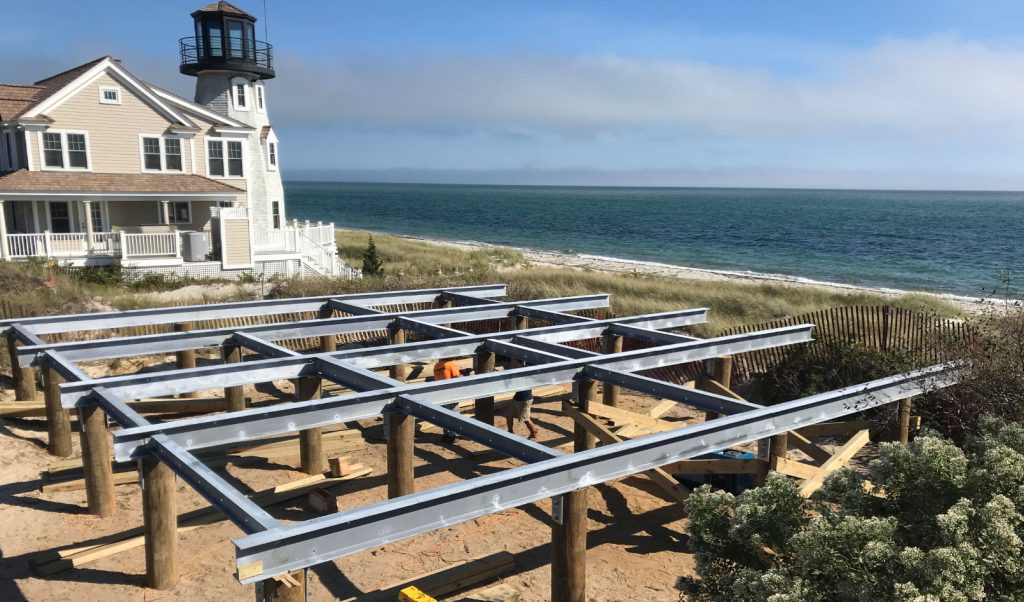 Join the Team!
We are always looking to add to the team at Beacon Marine and Beacon Crane! If you are interested in working with a great group of individuals on rewarding projects, then we encourage you to reach out and submit your resume to info@beaconmarineco.com. Our team members aren't just employees – they quickly become part of the Beacon family – and everyone is valued for their unique contributions to our company. We know the importance of hard work, but we also understand that a good work-life balance is essential for everyone. If that sounds good to you, we hope you'll get in touch and join us as we grow.
MISSION STATEMENT
BMC's mission is to facilitate and maintain a connection to the water through an unparalleled commitment to quality, the professional development of our people, and the creation of lasting relationships.
We facilitate a connection to the water in a physical sense with the structures that we build and maintain. In the emotional sense, we have a deep connection to the water simply by working on it and interacting with it every day. Furthermore, we see our clients recreating on it and enjoying it.
Our unparalleled commitment to quality is deeper than just producing a quality product. This is a commitment to quality processes, quality equipment, quality relationships, and quality culture where we do not accept shortcuts. The ocean is a perfect example of an environment where your quality will be tested, and our goal is to deliver the right product the first time. We are unparalleled in that we are leaders in our industry, and we are doing things the best way at all times.
The professional development of our people is a look inward at ourselves and how we are growing as individuals. This is done by providing the mentoring, licensing, and education to deliver the rest of our mission successfully. In addition, we are investing in ourselves to grow and learn new things. Not being satisfied with status quo and eager to try new things. This is the core link between rest of our mission.
Creating lasting relationships is predicated upon our conduct and professionalism. This relates to our relationships with our co-workers and their families, our clients, as well as our vendors. Each interaction should be a building block towards a positive relationship. Our company culture is instilled in each of us, and any time we interact with someone, we are representing our company.